Our Team
Richard B. Maring - CEO/President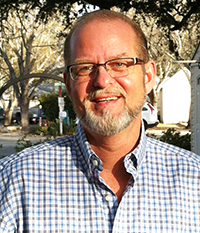 In 2015, Mr. Maring was introduced to L. Brent Bates, the owner and pioneer of a Business Management System that he was using to run his business interests. After looking at the system and seeing it's potential to dramatically improve the management of his own interests, Mr Maring entered into an agreement with Mr. Bates to update the software and take it into the small business marketplace as Oper8.
Mr. Maring has over 40 years of experience in creating and managing high technology corporate ventures. His in depth knowledge of computer technology coupled with decades of time spent creating and implementing new IT start-ups give him the unique capacity to communicate his vision effectively from the technical drawing board to the executive directors board. His experiences include creating national and global marketing campaigns, multi-million dollar software development programs, strategic alliances, mergers, acquisitions, and joint ventures.
Mr. Maring has extensive background experience in numerous technical systems and disciplines that began in 1976 on NCR mainframes and has continued into 2016 with advanced Internet protocol solutions. The companies he has been responsible for bringing to the marketplace range in scope and include software firms with innovative solutions in; vision and color recognition systems and leading edge imaging systems for the private and governmental land title industry. He pioneered Internet solution companies that included a Texas regional Internet Service Provider (ISP) and an innovative National Discount ISP.
Throughout his career, Mr. Maring has been viewed as a visionary and a pioneer. He is co-author of a US Patent granted in 1986 for the software and hardware design of the first successful marriage of CCD camera technology and personal computers for Statistical Color Quality Control used by many Fortune 500 manufacturing companies.
Mr. Maring is a much sought after corporate consultant and mentor on various topics in the creation of new corporate start-ups that include corporate structure, legal issues, marketing, technology and finance. The list of companies that have sought out his vision and expertise have ranged in size from small entrepreneurial ventures to Fortune 50 corporations including Eastman Kodak.
L. Brent Bates - Executive VP Sales & Marketing

Mr. Bates' business career started immediately following his graduation from Texas A&M in 1980 with a degree in Business Administration. In 1981, Mr. Bates worked as a Petroleum Landman in the "Austin Chalk" area of Texas. During the annual yearend slowdown in Landman work, he travelled to Fredericksburg, TX to complete the construction of his parent's retirement home. Upon completion of the home and returning to the Dallas - Ft Worth area, he had a job offer in the mail to the youngest hire by Merrill Lynch in the Ft. Worth office. After a couple of years at Merrill Lynch, having been a top quintile and award winning producer, Mr. Bates moved into the rapidly expanding commercial real estate market in Dallas - Ft. Worth.
Having brokered sales in the millions and dealing with some of the area's top developers, the downward real estate spiral of 1986 necessitated Mr. Bates leaving the commercial real estate market and working for a couple of years as a self-employed contractor, while deciding what occupation he wanted to have now that he was in his 30's. He performed a large condominium complex renovation and several other smaller projects during this time. He also married and lived in Raleigh, NC, working as a real estate broker and Director of Development for Restaurant Ventures International, Inc., which was developing drive through restaurants for a wall street potential IPO. They were eventually beaten to the marketplace by Rally's, even though Mr. Bates was responsible for a 400% increase in restaurant units and a dramatic increase in sales. In late 1990, Mr. Bates experienced a severe health scare and decided to return to Texas.
In October of 1991, Mr. Bates came to the Hill Country of Texas and opened a financial planning services firm. As a practicing Certified Financial Planner, Mr. Bates assisted many clients on a wide range of financial needs. He even had a small independent mutual fund he managed for several years.
In 2004, Mr. Bates' because of his disenchantment with the irrational behavior of the market, decided to move away from the security business and into further real estate development. He had started a project on 10 acres in town, which was to house his office needs and those of other small businessmen. He created a "condominium-ized" office park, where buyers benefited by buying less land than they needed for a stand-alone office. From 2005 to 2015 Mr. Bates constructed some 60,000 sq. feet of office space, including a cancer center and a surgery center at that location. He also built an additional 4 cancer centers throughout central Texas, along with designing and locating 3 others. Mr. Bates developed a couple of other small office parks and an 18 unit condominium project on the river in Kerrville, TX.
In 2005, Mr. Bates joined with a local businessman and a former SAP software consultant to develop a solution to run his multiple businesses from a centralized "Business Administration System". The system was designed to integrate many diverse software applications into a single portal, accessible from any business location. He has been using this system, named Oper8, to manage all of his business interests ever since. To date his companies have managed all their contacts, appointments, calls, tasks, and projects using Oper8, including the 40,000+ documents that accompanied them.
In 2015, Mr. Bates was introduced to Mr. Maring and the two entered into an agreement to modernize Oper8 and take it into the small business marketplace.
R.W. (Bob) Carey - V.P. Business Development
Thomas A. Maring - V.P. Information Technology